Safir Sailboat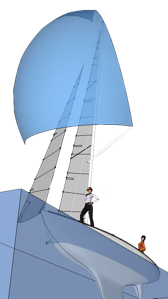 Safir nr 30

Cockpittent

New cut in black as well as the boomcanwas.

Deck

Treadmaster deck in dark grey

Rudderstick new and new details on the prolonging.

Deck hatch fore changed to low slim type.

Deckhatch after cut down in profile with the deck.

Railingsprofile mounted

Drain

The drainsystem has been chanced. The connection between cabin and cockpit is closed with a rubber corck.

Pump rubber parts and hoses has been renewed and the handle has been prolonged.

Hull

Colour of the hull changed from blue to white. Keel from black to white.

Luggage room

The ankerwell has ben cut away the interior has been rearranged. The rudder axes has been protected so gear cannot block the function.

Mast

Mast and booms are painted black with white name

Wood

A lot of wood details has been renewed with hardwood.